Bella Hadid a frontrunner in #FreeTheNipple campaign, recently went braless in London post her ramp walk for Burberry. With her essentials on display, Bella was all confident in a sheer white top teamed with a tan jacket.
The Hush Post| 9:40 am|one-minute-read|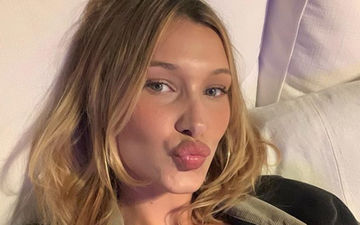 Here is another celebrity part of the feminist FreetheNipple campaign. American Model Bella Hadid recently joined the likes of Kendall Jenner, Rihanna and others to be a part of the #FreeTheNipple movement.
On this note, Bella recently went braless and sported the riskiest outfit ever. After her ramp walk for Burberry, Bella was spotted at her hotel in London wearing a sheer top and nothing else inside.
Free the Nipple campaign is a platform, protest-cum-consciousness-raising tactic to de-sexualise women's nipples.
Bella was sporting a white top with her essentials on display and had her signature tote bag as well. She was also sporting a tan Holzweiler jacket and nude peep-toes. What caught attention was also the cannabis pendant that she wore with a chain.
Earlier in the day, Bella walked the ramp for Burberry wearing a black shirt with a white shirt and a black jacket. She put up the video on her Instagram account saying, "@BURBERRY Grateful to B a part of this show my? @riccardotisci17 , I love you All my love to you @katy_england @italia3bis @guidopalau @patmcgrathreal Hair dreamt up by Riccy and Cut by Sandy Girl @sandyhullett Forever Tisci."
It was in April last year that Bella joined the #FreeTheNipple movement by putting put sultry yet blurred pictures of hers on Instagram.
Stars like Kendall Jenner and others have all gone braless on several occasions. FreeTheNipple movement is not new. It started with Kate Moss walking the ramp topless for Vivienne Westwood Fall 1994 show.