The Hush Post/ 05:10 pm/1-min-read
The new maps of the Union Territory of Jammu and Kashmir and Union Territory of Ladakh have been released. The two Union Territories formally came into existence on October 31, 2019.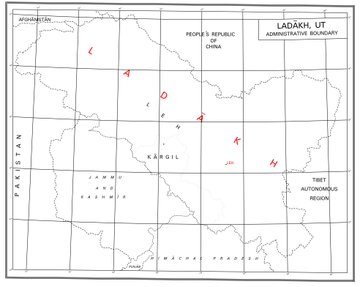 G C Murmu was on Thursday sworn in as Lieutenant Governor of Jammu and Kashmir and R K Mathur of Ladakh.
The union territories of Jammu and Kashmir, and Ladakh, have been carved out of the state of Jammu and Kashmir. The Narendra modi led B JP government had on August 5, 2019 taken the decision to revoke the special status of the state under Article 370 and bifurcate it into two UTs.
This means that the Republic of India now has 28 states and nine UTs. This is the first time a state has been converted into two Union Territories.
The union territory of Jammu and Kashmir will have an elected legislative assembly and council of ministers headed by the chief minister for a period of five years. However, Ladakh will be directly governed by the Union Home ministry through the lieutenant governor.
Both the union territories will have a common high court.
Ladakh shall come under the ambit of the Union Public Service Commission (UPSC)for the recruitment of officers. Jammu and Kashmir will continue to have the Public Service Commission (PSC) as the recruiting agency for the gazetted services.
Government employees of the new union territories will start getting salaries and other benefits according to the recommendations of the seventh Pay Commission.
The Constitution of Jammu and Kashmir and the Ranbir Penal Code have ceased to exist from Thursday.
The proposed Delimitation Commission to redraw assembly constituencies in the Union Territory of Jammu and Kashmir will be set up by the central government, and not the Election Commission.