The Hush Post| 11:48 am|one-minute-read|
A woeful tale of a 65-year-old woman from Madurai has emerged and has left the internet fuming.
Karuppayi, 65, lives in a public toilet for the past about 20 years in Ramnad area of Madurai, Tamil Nadu. Photos of Karuppayi and how she manages to stay in a toilet went viral. Her tragic pictures with the caption have gone viral.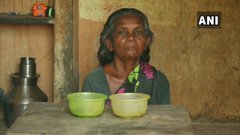 According to an India Today report, apparently the woman has been surviving and earning money by cleaning the toilets. Reportedly, she earns her income by charging a meagre amount from public for using it. In the pictures, one can see how Karuppayi stays in a small public toilet and doesn't even have the basic necessities to survive.
Karuppayi had applied for senior citizen pension but didn't get it. She approached many officers in Collector's office but nothing materialised."
She added, "I don't have any other source of income. So I live here in this public toilet. I earn Rs 70-80 per day. I've one daughter who never visits me."
After her pictures went viral, Twitterati started requesting the government to help her out. Some even praised her for doing her work properly and keeping the toilets clean. Here's what people are tweeting.