The Hush Post
Anusha Sharma– Is the scorching sun too much to bear? Is the pollution, sweat and grime of city life getting on to you? If the answer is yes, the hills of Himachal Pradesh are beckoning you this summer. Home to many mountain towns, the state offers respite from the sweltering heat and is like a mini escapade into nature's lap. Here are some of the best towns in Himachal that would sweep you off your feet with their beauty.
SHIMLA
This capital city also doubles up as one of the most popular hill stations in Himachal. With colonial style architecture, winding street and majestic hills all around, Shimla has a lot to offer. It's one of the most commercialised hill stations, ensuring a comfortable trip with many hotels, resorts, restaurants and shops. Shimla should be on your list if you want a taste of the Victorian era while enjoying contemporary comforts.
Main Attraction: Mall Road; also known as the heart of the town. It includes the Ridge; a walking stretch and variety of shops and cafes.
Places to Stay: Chapslee, Marley Villa, and The Oberoi Cecil. Those on a tight budget could go for Little Chilli Homestay and The Bodhi Tree BnB.
Getting There:
Nearest airport- Jubarhati, regular flights from Chandigarh to Delhi.
Closest rail head- Kalka.
Shimla has a small station just a kilometer away from the central town which is connected to Kalka.
DALHOUSIE
This pretty town will transport you to a bygone era with its cottages, meadows, pine trees, streams and misty mountains. It also houses the Kalatop Wildlife Reserve amidst forests of pine and oak trees. For those in search of some peace and quiet, Dalhousie could be your next stop.
Main Attraction: Satdhara falls; it offersa stunning visual with water of seven springs coming together and plunging down from a great height.
Places to Stay: BrijVilla and Grand View Hotel could provide you with a luxurious stay. Zostel Dalhousie and goStopsDalhousie are some fun places to stay at if the budget isn't much.
Getting There:
Buses, both state and private, run from Chamba, Amritsar and Shimla.
Nearest railway station- Pathankot. You can take a cab or bus to reach Dalhousie.
Some nearby airport terminals would be in Gaggal, Kangra as well as Amritsar and J & K.
DHARAMSHALA
The city of Dharamshala is steeped in Tibetan influence and is also the residence of the Dalai Lama. Monasteries and temples can be found in abundance. Also, there are tea gardens here and it is well known for its Kangra green tea. It also serves as a starting point for many trekking trails that go through forests of pine and oak trees. Dharamshala is best suited for those seeking a cultural experience amidst the hills.
Main Attraction: Dharamshala Cricket Stadium; its known as one of the highest sports grounds. Getting to watch a match here is an experience like no other.
Mcleodganj, a trekker's paradise is up above the town in the lap of the Dhauladhars.
Although a suburb of Dharamshala, McLeodGanj deserves a special mention, given its own prominence and charm. You can feast your eyes with the sights of the Central Square and Kotwali Bazaar. You could get an adrenaline rush by joining a trek or a hike. Nestled amidst monasteries, temples, falls and hills, this truly is a Himachal wonderland.
Main Attraction: Tsuglagkhang Complex; Serving as a pilgrimage site, it's also great for learning about the Tibetan culture and history.

Places to Stay in Mcleodganj: D's Casa, Hotel King's Classic, and the Pink house 
Places to Stay in Dharamshala: The Divine Hima, Prakriti Aalay, and Rakh Resorts are the pricier options. Hotel Holiday Hill and McleodGanj Homestay are relatively cheaper.
Getting There:
The most convenient option would be to take a flight to Chandigarh, and hiring a cab from there to Dharamshala.
Nearby airport- Gaggal which has flights coming from Delhi.
Nearest railway station- Pathankot
Buses, both state and private, run from major North Indian cities including Delhi.
CHAMBA
For lovers of art and culture, the small town of Chamba would be right up their alley. Chamba is well known for craftsmanship and artistry amongst the misty hills. Also, its well-known miniature paintings and murals are colored in various moods and styles. Their traditional costumes, footwear and jewellry are sure to grab your attention. The town also organizes festivals and fairs like the 'Suhi Mata Mela' and 'Minjar Mela'.
Main Attraction: Manimahesh Lake; is recognised as the abode to Lord Shiva, and is flanked by mountains and greens. But to get there you need time and wherewithal to beat the cold on the long trek.
Places to Stay: Himalayan Orchard Huts, Hotel City Heart and Hotel Ashiana Regency are some affordable options.
Getting There:
Nearby airports- Pathankot, Amritsar, and Kangra
Regular buses- Delhi, Haryana and Punjab
Closest rail head- Pathankot from where a cab or a bus can be taken.
MANALI
An extremely popular hill station, Manali is for nature lovers and adventure junkies. Blessed with plentiful natural beauty, Manali is thronged every year by both young and old. The town is covered with perpetual mist adding mystique. Small food stalls and vendors can be found selling local delicacies at cheap rates. Whether it's trekking, hiking, paragliding or river rafting, Manali offers all fun and exciting activities.
Main Attraction: Solang Valley; home to picture-perfect peaks and adventure activities.
Places to Stay: Manuallaya- The Resort Spa and The Himalayan would be ideal if you are in the mood to indulge. The Orchards House, Hotel Greenfields and Zostel Manali are some other comfortable options.
Getting There:
Buses, both state and private, are connected to Manali via Leh, Kullu, Shimla, Dharamshala and Delhi.
The closest airport- Bhuntar, 50 km from Manali
KASOL
It is a tiny hamlet of paradise for backpackers and has strong influences of Jewish and Hippie culture. You could go on long walks alongside rivers and pine trees or trek all the way to Kheer Ganga. Kasol is also a hotspot for Israeli tourists and streetside cafes which offer Israeli cuisine. Riverside camping and music festivals are some common features here.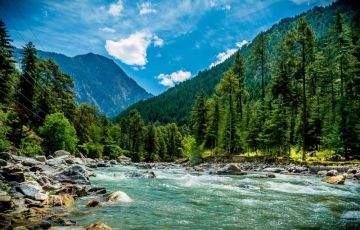 Main Attraction: Tosh Village; a tiny village surrounded by beautiful mountains and streams. It's a blend of local culture, festivals and celebrations
Places to Stay: If your pocket allows, The Himalayan Village is an option. Other affordable options include Parvati Kuteer, Colonel's Dacha, and Nomad's Hostel 
Getting There:
Nearest airport- Bhuntar Aiport connected to Delhi, Pathankot and Shimla.
The other airport that comes close is the Chandigarh airport.
Nearest rail head- Pathankot, and one can hire a cab or travel via bus.
NALAGARH FORT
Located in Solan district, Nalagarh Fort is a heritage hotel atop the hills. It has recorded history which showcases Nalagarh's rich culture in association with important events of the past. Right from high-end restaurants and swimming pools to go karting and mini golf, it has it all. With Mughal style architecture, manicured lawns, spectacular view, and personalized service, you get a sense of royalty here.
Main attraction– Gobind Sagar Lake and Yadavindra Gardens
Getting There:
Nearest airport- Chandigarh which is well connected to major cities
Many state and private buses run to and from Nalagarh.
Closest rail head– Ghanauli, getting a cab from here might not be easy.
The most feasible option is the second nearest rail head in Chandigarh from where cabs and taxis are easily available.