The Hush Post: In a case which highlights that size doesn't always matter a three-foot-long attacked an almost double of its size snake to get its meals in Koraput district of Odisha. The incident was captured on video by a snake helpline volunteer.
The video clip from Koraput district of Odisha shows a three-foot-long trinket snake trying to constrict an over five-foot-long rat snake. The volunteers of animal rescue had received a distress call from a family in Sunabeda town on Friday and they were shocked to see the smaller snake wrapped around the visibly larger snake trying to kill it, a report said.
The incident was captured on his mobile camera by Sujit Kumar Mohanty a volunteer of the Snake Helpline, the report said.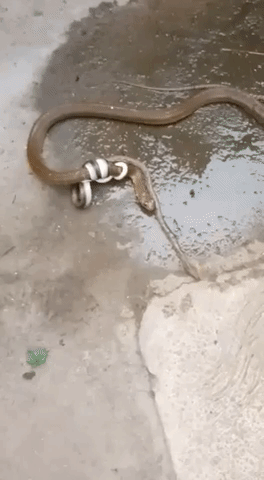 As per Snake Helpline founder Subhendu Mallik the three-foot-long snake was tightly (and cleverly so) coiled around the rat snake's heart making it difficult for it to move, it was reported.
Mallik was reported by the NDTV that the sight was first of its kind as trinket snakes are known to eat other snakes but they often prey on ones smaller in size.
Volunteers were advised to separate the two serpents as the fiesty trinket snake would have been unable to swallow the bigger size even if it managed to kill it.
"I am fully convinced that the tiny trinket was very much capable of killing the larger rat snake," Mallik was quoted as saying by the NDTV.
Volunteer disengaged the two snakes and released them separately in their natural habitats. Both the snakes were non-venomous, the report said.